Support Your Award-Winning Library on November 2, 2021
Vote FOR Issue 17
Washington-Centerville Public Library will have a 3.0 mill renewal continuous levy on the ballot November 2, 2021.
This levy WILL NOT increase the current tax you pay for the Library.
Your Library is your connection to so many things that make Centerville/Washington Township a premier community in which to live!
Your Library, Your Connection to...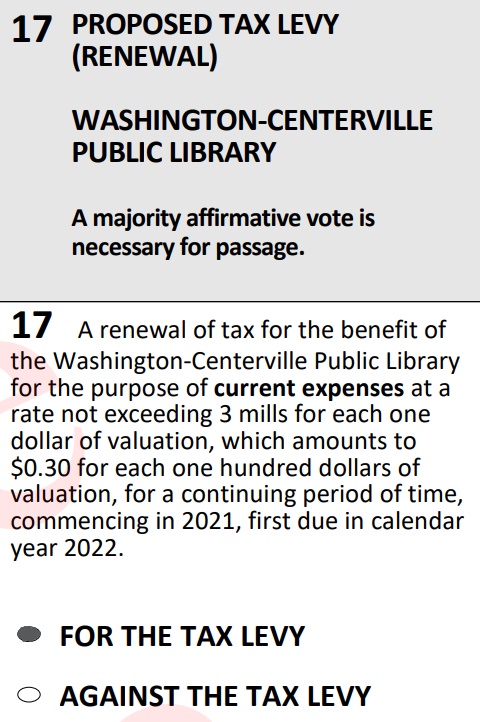 For Issue 17, be sure to vote "For the Tax Levy"
Testimonials
Find out what our community is saying about the Washington Centerville Public Library

S. Puckett
"Thank you for your part in my children's' love of reading. Every week I have the joy of bringing them a bag full of gifts for them to dive into. They wait with excitement for the day when the new bag of books come home and what adventures await. You provide these gifts, which has helped to ignite a love for reading in us. Thank you for your patience with finding all of the books on hold for us, for your hard work, and for your devotion to literacy in our community. It has made a difference in our family!"
Sharon Short (a.k.a. Jess Montgomery)
"As a child, the library was my portal to dazzling new worlds, ideas and stories, sparking my imagination and fueling my own story-telling passion for my lifetime. As an adult and professional writer, I remain indebted to the library as essential to my creative work and personal growth."
David E.
"I was at Woodbourne Library the other day and the Children's librarians were very kind and helpful. They showed me the two sections for comic books in the children's sections and explained to me how to search for children's titles on the website. I appreciate all the kind help."
A Mom attending virtual storytimes
"We moved here from Vietnam about a year ago and my son and I are still learning how to speak English. We've been attending the virtual storytimes, and it's really helped my son learn the language. Now his English is better than mine!"
More Testimonials